Welcome to the English version of POL.it Psychiatry on line Italia.
According to data collected by Alexa, our Net magazine ranks first place in Europe, among psychiatric resources, for the number of accesses reached.
The year 1998 marked the 20th anniversary of the promulgation of the current psychiatric-care law in Italy, also known as "BASAGLIA ACT" and the psychiatric field devoted a lot of effort to this important issue.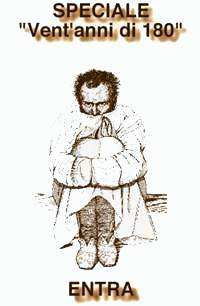 On this occasion POL.it opened a specific section of our magazine, where our foreign colleagues can find a great amount of information as well as the actual presentation of the plan in English together with articles in English which explain the Italian psychiatric situation and other aspects of this topic.
In this special section we also included many extraordinary photos of Uliano Lucas, one of the best Italian photographers.
GO TO SEE HIS PORTOFOLIO!!!
TAKE A LOOK AT OUR "SPECIAL"!!!
We hope that in the near future we will be able to translate all these pages in English.
We would be happy to know your opinion about our work.
For Xmas we are happy to offer our readers the possibility of reading a Xmas Tale entitled " THE PROPHET". From that page you can also download a table in A4 format painted by the famous italian illustrator Lele Luzzati. Take a look!!!
We believe that we can establish a strong international psychiatric resource on the net, however it entails a great deal of work, but we have been able to provide a great amount of material on our web pages over the past years.
Here is the index of the full-text English versions of articles published on POL.it web site:
Ibogaine: The story of a therapeutic casualty? By Marcello Maviglia, MD, MPH-University Of New Mexico, Albuquerque-USA, Mauro Ceccanti, MD čUniversity La Sapienza-Rome, Pino Lombardo, PhD-University La Sapienza-Rome, Italy
Christianity and Freudianism by Antonello Armando - a Review of Shadia B. Drury's book Terror and Civilization. Christianity, Politics and the Western Psyche
Psychoanalysis and Psychotherapy: Forming or Conforming? - A Passionate Debate Between Two Italian Lacanian Analysts
Chinese Mental Health Online by Yizhuang Zou, MD, PhD, Beijing Huilongguan Hospital
NEW ANTI PSYCHOTICS AND GLUDICES METABOLISM: A REVIEW OF LITERATURE by Marzia Delle Piane and Paola Rossi
INTERVIEWS

PSYCHO - ONCOLOGY - SPECIAL SECTION CONTENTS UPDATES
LETTER FROM UK by NADIA MICALI, London, UK
LETTERS FROM USA by MARCELLO MAVIGLIA, Albuquerque, New Mexico

The Influence of Somatic and Psychiatric Medical Theory on the Design of Nineteenth Century American Cities by Robert Hewitt

Should neurology and psychiatry merge? by Arnaldo Ballerini

The Psychiatrist and the Laws by Antonio Augusto Rizzoli

Antipsychotic treatment with classical neuroleptics: The patient's experience by David Titelman, Ph.D. Karolinska Institutet, Stockholm

Evidence-Based Psychiatry in clinical care and community mental health programs and policies - Misconceptions, achievements and future directions by Milos JENICEK (SIP CONGRESS SPEECH 2003)

SOPSI 2003, Rome: INTERVIEW WITH PROF. P BUCKLEY, GEORGIA (USA) by Nadia Micali

SOPSI 2003, Rome: INTERVIEW WITH PROF. T MC NEIL by Nadia Micali

Web Technologies in CME Projects, New Ways of Teaching Psychiatry by Francesco Bollorino Neuroscience Department — Genoa University ( Paper read at XII WPA Congress, Yokohama Japan August 24 - 29, 2002)

Interview to Charles Curran ( Forest Pharmaceuticals) - August 2002 by Anna Fata

Interview to Prof. Sherry Turkle (MIT - Massachussetts Institute of Tecnology) - June 2002 Rome, Italy during SIP Congress

The subconscious of the dandy by Maria Pia Bobbioni

The Italian asylum law: moving towards the deinstitutionalization model by Giuseppe Dell'Acqua (Trieste, Italy 2002)

Ugo Cerletti and the discovery of Electroshock. - An imaginary interview by Francesco Bollorino, Rossella Valdre', Maria Vittoria Giannelli (Genoa, Italy 1998)

CULTURAL TRENDS ON COGNITIVE THERAPY by Isabel Caro (Valencia, Spain 2001)

ALTERNATIVE APPROACHES TO THE TREATMENT OF ANTISOCIAL BEHAVIOUR by Gemma Brandi and Mario Iannucci (Florence, Italy 2001)

Interview to Richard Barbrook, Westminster University London, UK by Anna Fata (2001)

Interview to Kimberly Young, University of Pittsburgh on IAD by Anna Fata (2001)

Interview to Prof. John Suler ( Rider University, Lawrenceville, New Jersey) on physiology and psychopathology of the life online by Anna Fata (2001)

Interview to Prof. Sherry Turkle (MIT - Massachussetts Institute of Tecnology) - 1996 by permission of Technology Review Magazine

Legal Responsibility and Protection of Mentally Disordered People in English Law by Phil Bates (1998)

What do you want from an internetic journal? by Antonio Augusto Rizzoli (1998)

" THE PROPHET" a Xmas Tale by Francesco Bollorino (1989)

A History of the International Association of Group Therapy : Facts and Findings by JOAN CAMPOS AVILLAR ( Bercellona 2000)

Psycho-social family intervention in schizophrenia; application of Expressed Emotion concept in United Kingdom by Dominic Lam, Ph.D (1995)

DOES FREUDIAN THEORY RESOLVE "THE PARADOXES OF IRRATIONALITY"? by Adolf Grünbaum, University of Pittsburgh (1998)

THE HERMENEUTIC VERSUS THE SCIENTIFIC CONCEPTION OF PSYCHOANALYSIS: AN UNSUCCESSFUL EFFORT TO CHART A VIA MEDIA FOR THE HUMAN SCIENCES by Adolf Grünbaum, University of Pittsburgh (1995)

COMMUNITY PSYCHIATRY IN ITALY by Giordano Invernizzi ( Italy 1997)

AGGRESSION AND ATTACHMENT by Juan Carlos Garelli, M.D., Ph.D. University of Buenos Aires Department of Early Development (1997)

CONTROVERSIAL ASPECTS OF BOWLBY'S ATTACHMENT THEORY by Juan Carlos Garelli, M.D., Ph.D. University of Buenos Aires Department of Early Development (1999)

Individuality and Generalizationin the Psychology of Personality: A Theoretical Rationale for PersonalityAssessment and Researchby Robert R. Holt (1998)

A century of psychoanalysis: critical retrospect and prospectby Adolf Grünbaum (1998)

Developmental defect versus dynamic conflict, by MorrisN. Eagle (1998)

Psychoanalysis and psychotherapy: a revision by Merton M. Gill ( 1984)

The mental health and welfare system and its related laws in Japan by MIZUNO Masafumi , MURAKAMI Masaaki ed Antonio A. RIZZOLI ( 1998)

INTERNET AND PSYCHIATRY: THERAPEUTIC TOOL OR THERAPEUTIC SPACE? by Francesco Bollorino, Editor of POL.it (WPA Congress, Hamburg 1999)

So, Dear Reader, take a look at the site organisation of contents of the Italian site and give us some feedback !

In order to speed up translation work we are seeking sponsorship to provide the professional development of these plans. If you are interested please contact our PR man, Dr.Fabio Canegalli.